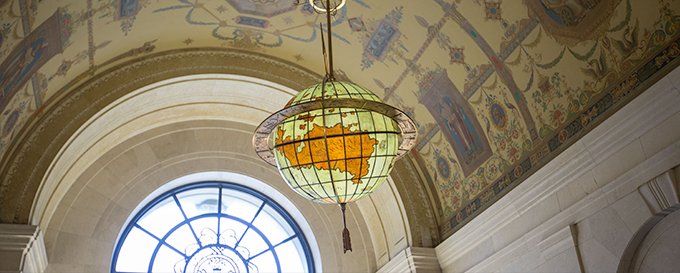 When you support the Cleveland Public Library Foundation, you invest in Cleveland's success through our patrons.
The Cleveland Public Library Foundation exists to raise philanthropic support for Cleveland Public Library. The Foundation allows the Library to do more for the people of this community given the work outside the scope of traditional library services is not funded by the state and local tax dollars received by the Library. When you invest in the work of the Cleveland Public Library through the Foundation, you invest in the City of Cleveland. Your investment impacts the following areas:
Ensure every child reads:

 

Cleveland Public Library prioritizes its youth literacy efforts. From story time, tutoring, and homework help to resources for parents and educators, our role is to ensure children have the tools they need to be successful readers.

Community Connector:

  

The Library serves as a connector for social services and other basic need resources for the community. Whether adult patrons need access to education services or children need access to healthy food options, you can find it at Cleveland Public Library. 

Workforce ready:

 

Through programs, services, and community partnerships Cleveland Public Library ensures Clevelanders have the skills and resources they need to be successful in the workforce.  

Bridge the cultural divide:

 

The Library offers people a platform to learn "first hand" from each other and come to appreciate the variety and richness of the world's cultures. Emerging technology, our featured exhibitions, and collections presents opportunities to broaden the avenues for intercultural engagement 
Please consider a gift  to support one of Cleveland's most valued community assets.
Please join us as a supporter.  Your contribution will help the library continue to provide a rich learning environment and a place for civil discourse, accessible to everyone in the community.
Tracy Martin
Director of Development
Cleveland Public Library
LaRese Purnell, President
CLE Consulting Firm
Dorothy Baunach, Vice President
Community Volunteer
Samuel Wright III, Treasurer
Huntington Bank
Erin Deimling, Secretary
PNC Bank
Nancy Bostwick
Community Volunteer
Brian Broadus
Perspectus Architecture
Margaret Anne Cannon
Community Volunteer
Katherine Collin
American Endowment Foundation
Manicka Collins-Bryant
Cuyahoga Community College

Donna Flynt
Parker Hannifin
Adam Gimbel
Allegro Realty
Greg Harris
Rock & Roll Hall of Fame
Kathryn Heidemann
Cleveland Institute of Art
Yvette Itu
Greater Cleveland Partnership – Cleveland Development Advisors
Chris Kaiser
Cleveland Cavaliers
Cecil Lipscomb
United Black Fund of Greater Cleveland, Inc.
Ronna McNair
Cuyahoga Community College
Molly McNally
Squire Patton Boggs
Christine Millen
Enza Financial LLC
Jeffery Patterson
Cuyahoga Metropolitan Housing Authority
Mark Ross
Community Volunteer
Michele Ungar
Progressive Insurance
Gregory Stefani, Past President
Federal Reserve Bank of Cleveland – Retired

Bob Pincus, Director Emeritus

Felton Thomas, Honorary Director
CPL, Executive Director & CEO
Thomas Corrigan, Honorary Director
CPL Board of Trustees
Eric Gordon, Honorary Director
Cleveland Metropolitan School District