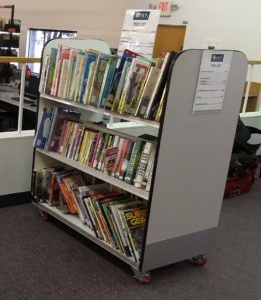 See the book sales carts near the front desks. Check back often as the books and other materials change frequently!
Carnegie West (Ohio City), 1900 Fulton Rd.
Fleet (Slavic Village), 7224 Broadway Ave.
Fulton (Clark Fulton), 3545 Fulton Road
Harvard-Lee, 16918 Harvard Ave.
Martin Luther King, Jr. (University Circle), 1962 Stokes Blvd.
Memorial Nottingham (Collinwood), 17109 Lakeshore Blvd.
Rice (Buckeye-Shaker), 11535 Shaker Blvd.
South (Clark Fulton), 2704 Clark Ave.
South Brooklyn (Old Brooklyn), 4303 Pearl Road
West Park, 3805 W 157th Street
The Library Gift Shop, Main Library, 525 Superior Ave.